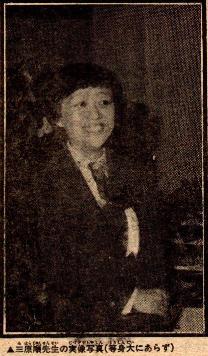 from "Hana to Yume" magazine
1978, No. 10 (5/20/1978)
Who was Jun Mihara?
The following information is translated, to the best of my ability, from the following web page: http://www2.ttcn.ne.jp/~tanu/MIHARA/whats.htm. I'm afraid I didn't ask the author's permission, and I hope they won't mind my effort to translate their information.
Jun Mihara (real name Junko Suzuki) was born on October 7, 1952 (Showa 27) in Sapporo, Hokkaido. She began to draw manga in junior high. When she was a junior in high school she submitted a story to Magaret Extra Manga School where she made a respectable showing*. After high school graduation, while working for a company, she continued to submit her work, and in 1973 (Showa 48) she won a prize from the same Magaret competition for her story "Bokura no Omiai", and made her debut. In 1975 (Showa 50), "Warera Hamidashikko" appeared in the January issue of Hana to Yume magazine. With enthusiastic reader support, she continued the story until 1981. Her best known series are Hamidashikko, Lou and Solomon (Ruu to Soromon), and Moonlighting. On March 20, 1995, she died from an illness. She was 42.
* I'm afraid I don't really understand the part about the results of the contest, but I assume that she did well. If you can help, please write to me at the address below.