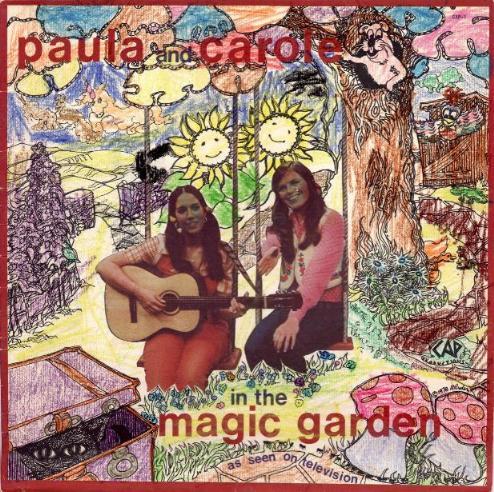 Photograph by Alton Alexander, illustrations by Richard Ryder
February 18th, 2006 - NEW! I've been terrible about updating this webpage. Many people have written to me over the past couple of years to share their own memories and love of the show, and to inform me of recent events and TV specials. Thank you for all your kind messages over the years! My old URL which was linked by Carole and Paula no longer exists, so please change your links to this site.
Come to the garden of make-believe,
A magical garden of make-believe,
Where flowers chuckle and birds play tricks
And a magic tree grows lollipop sticks
My sister and I used to watch Paula and Carole in the Magic Garden every day when we were children in New York. I have many happy memories of sitting on the floor in my grandmother's house watching Paula and Carole, wondering what silly thing Sherlock was going to try next, waiting for the Magic Tree to bring some wonderful thing, and singing and playing along. The image above and the other images on this page are all from the record album that my family bought for us when we went to see Carole and Paula live in concert on Halloween, I don't remember the year. :-) Oh, and I apologize to Paula and Carole for the green crayon on their faces. My sister and I colored the record album cover when we were very young, and somehow you ended up green.
I searched the internet for information on The Magic Garden, but to my surprise I didn't find anything about this wonderful show. So I took it upon myself to make a webpage. All the folllowing information is transcribed from the back of the record album cover, though I may eventually add personal notes and experiences as well.
Open up the window, listen to the wind blow,
Come and see our garden grow.
Transcribed text is in quotations. No copyright infringement is intended, but if the original copyright holders ask me to remove this site I'll do so.
The record was copyright 1978, CAP Productions, Inc.
Click on a purple LINK to find out more!
---
"THE MAGIC GARDEN was produced and . . . broadcast over the facilities of WPIX-TV in New York. As Kay Gardella said in The New York Daily News, 'Response to THE MAGIC GARDEN has been phenomenal. The program . . . is co-hosted by Paula Janis and Carole Demas, two delightful young ladies that have a winning way with the small fry.' Produced in consultation with Dr. Rose Mukerji, Chairperson of the Early Childhood Education Division of Brooklyn College, THE MAGIC GARDEN received a citation from ACT, Action for Children's Television. The program has been seen only in the Greater New York Area, where it is deveoping a remarkably intense following among children and parents alike, and a solid rating history in a highly competitive seven station market. It was commended by Joan Ganz Cooney, Pres. of Children's Television Workshop, as a show, '. . . children will enjoy and benefit from immensely', and was praised by Television/Radio Age for its 'charm, warmth, empathy, and above all, simplicity . . ..'"
"CAROLE DEMAS and PAULA JANIS met as students in the Mixed Chorus at Midwood High School in Brooklyn. Carole went on the University of Vermont and The Champlain Shakespeare Festival, and Paula to Skidmore College, where whe majored in Drama and toured the U.S. with the Omnibus Players. Their paths crossed again at N.Y.U. Graduate School of Education, which led them to become co-teachers as P.S. 7 in Brooklyn Navy Yard District. For several summer seasons they performed as The Festival Line Singers, along with their brothers Alex Demas and Jonathan Rosen, at the N.Y. Shakespeare Festival in Central Park. Carole's teaching career was gradually eclipsed by work in regional and N.Y. theatre. In New York, she starred in 'Morning Sun', 'Rondelay', 'The Fantasticks', and 'How to Steal and Election', and appeared in over 100 television commercials. Paula joined a folk singing trio, 'The Wee'Uns', performing everywhere from colleges to television to Carnegie Hall. She became Mrs. Christos Janis, continuing her teaching and her own education with an M.A. in Early Childhood Education, and work towards a Ph.D. She was active in the direction of summer Head Start programs, and performed on educational recordings for children. Paula's many pursuits were interrupted by birth of her daughter, Victoria. THE MAGIC GARDEN, starring Carole and Paula, began production at WPIX-TV in N.Y. while Carole was starring in 'Grease' on Broadway. For several years following, Carole divided her time between New York and California, where she starred on other television shows, such as 'Barnaby Jones', 'Mannix', 'Kojak', 'Fatastick Journey', etc. Paula carried the songs and stories of THE MAGIC GARDEN to schools, homes, and fund raising events, and, in private moments, to her second daughter, Monica, and son, Gregory. Now, Carole and Paula have formed CAP Productions, Inc., and pooled their talents to bring you this record. We hope you enjoy it!!"
"VIRGINIA MARTIN is a children's writer with credits in television and print. She was a creator, writer, and the Associate Producer of THE MAGIC GARDEN."

"ALTON ALEXANDER wrote THE MAGIC GARDEN for WPIX-TV in collaboration with Virginia Martin. Alton Alexander, a veteran television/radio writer, producer, director, produced the award-winning 'Birthday House' for NBC-TV."

"CARY ANTEBI, puppeteer, created Sherlock and Flapper for THE MAGIC GARDEN, and has performed with some of the best known puppet companies, including The Muppets and the Bill Baid Marionettes. His puppets have starred on WCBS-TV's 'Patchwork Family', for which Cary is also a contributing writer. Cary travels country-wide, singing, puppeteering, and performing in trade shows and commercials."

"ALEX DEMAS, following an extensive career in opera, liturgical and secular music as a boy soprano, counter-tenor and tenor, began playing, singing, and collecting the instruments of traditional American folk music. He currently performs and lectures throughout the Northeast. "

"DR. GEORGE NAYEF KAYATTA is a renaissance man who wrote the music and lyrics of the original opening and closing themes of THE MAGIC GARDEN. Also, he is known as the author of the 'New Renaissance Manifesto'."
---
See ya, see ya,
Glad that you could stay a while, da dum,
Glad that we could say "Good morning" to ya,
Hope you'll have a shiny day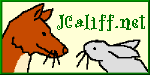 Questions? Comments? Email the webmaster@jcaliff.net