First, here is a card from NHK - I don't know what the card was for. If anyone knows, please tell me!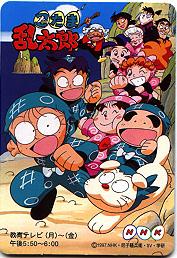 This is a card set from a company called "Sunlike". I believe that this is the first PP card set of the two that I have found. I am missing several cards from this set. If you have any, please LMK!
Here is the Amada PP set 2. There are 48 cards in the paper pull-pack version, including 12 prisms and 36 regulars. In the foil pack set there are also a set of Platina Cards (16) and Double Gold Laser (WGL) cards (3). Unfortunately, I am still missing PC-13.
This is the foil pack version of the packaging for this set.