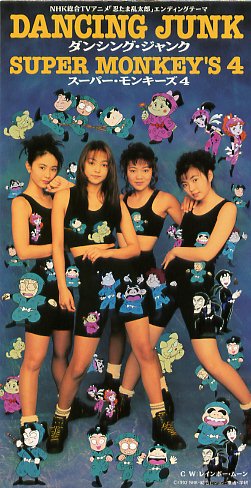 Dancing Junk (Super Monkey's 4)

TODT-3018, 93-5-26, Toshiba Emi

This is the CD single for the first ending theme to Nintama Rantarou, Dancing Junk, sung by Super Monkey's 4. This is one of the only non-Pony Canyon Nintama-related CDs, and perhaps for that reason this version of this song is not included on any other CD or on the DVD version of Nintama Rantarou. The lead singer of this group was Namie Amuro (second from left), who has since gone on to have an extremely sucessful career as a solo artist. In fact, the "b" side of this CD is a song performed by Namie Amuro called "Rainbow Moon". This CD has four tracks, Dancing Junk, Dancing Junk karaoke, Rainbow Moon, and Rainbow Moon karaoke. It's worth having this CD just to be able to enjoy Dancing Junk in its original version.