Unfortunately, the Nintama content from Sylvia's page seems to be gone. I'll leave this link here anyway in case she ever puts it back up.

The Anything-Goes Anime Lyrics Archive This site has the Romanized Japanese lyrics to Yuuki 100%. Perfect for all your karaoke needs.

This is a fan art archive with a couple of cute pictures of Doi-sensei, Rikichi, and Kirimaru from Rantarou in the gallery (but while you're at it, check out her other work - she's got some really cute pictures!)
Nintama Rantarou webring Just for fun, here is a really USEFUL Japanese link - it's the list of pages in the Japanese Nintama Rantarou webring. If you can read Japanese, you can find all sorts of interesting information and doujinshi-stuff on these pages.
Pony Canyon And finally, here's a link to the current Pony Canyon web page where you can find some information about buying the 3rd set of videos.
Yay! I'm finally listed on the Anime Web Turnpike!


This is a site devoted to information about ninja on the web and in real life. They've got some interesting stuff.
Would you like to link to this page? I don't have a cute banner, but here are a couple of simple graphics you can use.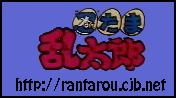 Simply copy a picture to your own computer, and link to the URL http://rantarou.cjb.net. That's all you have to do!

But wait, you're not ready to leave Ninjutsu Gakuen yet? Have no fear, we'll still be here when you get back.