Rakudai Ninja Rantarou - The Manga

While waiting impatiently for volume 31 of the manga, I finally decided to subscribe directly to the Asahi Shogakusei Shinbun. Needless to say, I was thrilled the day it started showing up in my mailbox! The newspaper is issued Tuesday through Sunday (no paper on Monday) every week.
The primary manga version of Rantarou is called "Rakudai Ninja Rantarou", by AMAKO Soubee. Rakudai means to flunk in school - a good translation might be "Failure Ninja Rantarou". I'm actually not unhappy that they changed the name for the anime version. Nintama is a much more cheerful title. I finally have every volume of the manga currently published.
This is a table listing the publisher information.
Rakudai Ninja Rantarou
by Amako Soubee
published by Asahi Shinbunsha under the Asahi Comics label
408 yen (volumes 1-20), 419 yen (volumes 21-31), 457 yen (volumes 32+)

Volume

Date
(1st Print)

ISBN

5-May-1993

4-02-275001-4

5-June-1993

4-02-275002-2

5-July-1993

4-02-275003-0

5-August-1993

4-02-275004-9

5-September-1993

4-02-275005-7

5-October-1993

4-02-275006-5

5-November-1993

4-02-275007-3

5-December-1993

4-02-275008-1

5-January-1994

4-02-275009-X

5-February-1994

4-02-275010-3

5-March-1994
(my birthday!)

4-02-275011-1

5-April-1994

4-02-275012-X

5-May-1994

4-02-275013-8

5-June-1994

4-02-275014-6

5-October-1994

4-02-275015-4

5-January-1995

4-02-275016-2

5-May-1995

4-02-275017-0

5-October-1995

4-02-275018-9

25-April-1996

4-02-275019-7

25-September-1996

4-02-275020-0

27-April-1997

4-02-275021-9

10-November-1997

4-02-275022-7

20-May-1998

4-02-275023-5

20-October-1998

4-02-275024-3

20-May-1999

4-02-275025-1

5-November-1999

4-02-275026-X

1-May-2000

4-02-275027-8

1-November-2000

4-02-275028-6

1-May-2001

4-02-275029-4

1-Nov-2001

4-02-275030-8

1-May-2002

4-02-275031-6

1-Nov-2002

4-02-275032-4

30-Apr-2003

4-02-275033-2

30-Oct-2003

4-02-275034-0

30-Apr-2004

4-02-275035-9

30-Oct-2004

4-02-275036-7
According to the notes at the back of the manga, Rakudai Ninja Rantarou began running in Asahi Shogakkusei Shinbun in 1986, however the collected volumes that I have were actually published beginning in 1993, approximately when the television series began to air. Volumes 1-14 were published monthly, and therefore I assume that the author was probably in the midst of writing volume 14 when the 1993 publishing began. In fact, since the first series includes stories through the end of volume 13, and since the Nintama Rantarou manga includes scenarios from volume 13, it seems almost certain that at least this much must have been finished when the tv series production began. While the actual stories are very similar from the early television series to the manga (there are some differences primarily due to the influence of Hemuhemu and Shige-chan in the early anime), the art style is somewhat different. In fact, the art style of the manga evolves significantly over the course of the series. Let me give you an example.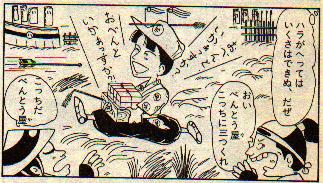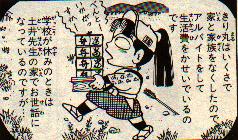 These two illustrations show the same "flashback scene" from the series - Kirimaru selling bento boxes during a battle as a part time job. The panel on the left is from volume 1 of the manga, page 12, while the panel on the right is from volume 19, page 28. He doesn't even look like the same character. Rantarou also evolved over the course of the series. Both Kirimaru and Rantarou began the series much taller and with thinner bodies and faces. Kirimaru in particular looks very different because his hair got much longer and his eyes became much larger. Interestingly, the character who changed the least in the manga was Shinbei. He started out as a pudgy little boy with a runny nose, and stayed that way.
There is another manga version of Nintama Rantarou! There are two volumes of a manga called "Nintama Rantarou", drawn by AMAKO Soubee. They were published under the Princess Comics Deluxe label in 1993, and more closely parallel the anime version of the series. They include manga versions of Shige-chan and the anime-style Hemuhemu! I bet that they were probably created in order to have an updated version of some of the earlier stories, and to have a manga that was more similar to the tv series. This short manga series very roughly parallels the first 13 volumes of the manga, the final story featuring Oomajime-sensei.
Nintama Rantarou
by Amako Soubee
published by Akita Shoten under the
Princess Comics Deluxe label
650 yen

Volume

Date
(1st Print)

ISBN

15-Oct-1993

4-253-15326-7

20-Apr-1994

4-253-15327-5
Manga Translations
I am going to translate a few short stories from the manga. So far, I've translated two of the short, 4-panel strips from the backs of manga volumes 27 and 29.
Komatsuda's Fault (vol.27) &nbsp Talking to Namekuji (vol.29)
Don't forget to read the word balloons from right to left!
This concludes the manga lesson. Please return to the list of classes and begin your next lesson.